Search Skin Biology
---
Reduce the Appearance of Stretch Marks
Stretch marks arise when skin is overextended. This often occurs during pregnancy or during vigorous muscle building. Alpha or beta hydroxy acids and copper peptides often slowly fade the marks but this a slow procedure and may take 4 to 8 months for a good cosmetic effect. However, the method is low cost, painless, and does not cause further scarring.
For use on stretch marks, moderate strength hydroxy acid and moderate strength work best. Use the acids at one time of the day and the copper peptides about 12 hours apart.
It takes about a month to start noticing an improvement. But really good results take several months. We have had reports from women that they removed the appearance of stretch marks of pregnancy that were up to 30 years old.
The Method by the Numbers
1. In the morning, apply a salicylic acid and/or lactic acid product to the stretch mark.
2. You can apply more hydroxy acid during the day if you have no irritation. But reduce the amount if your skin become irritated.
3. In the evening, use a moderate strength copper peptide product on the stretch mark.
4. The key is to keep working on the stretch mark.
5. You can use the copper peptide products also in the morning but because of the blue color, most people prefer evening use.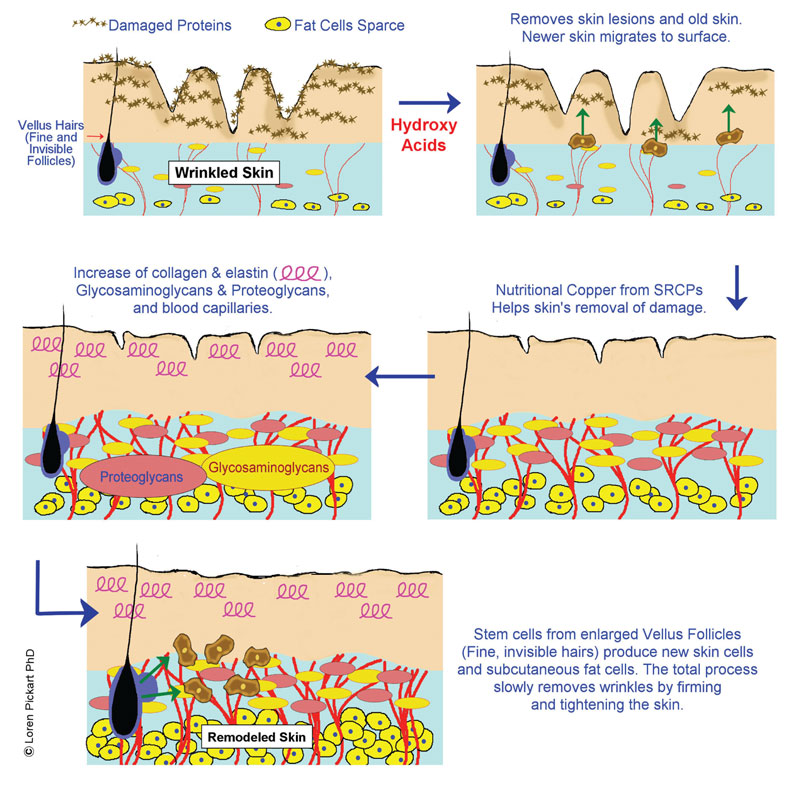 ---
Advanced Techniques - If The Above Does Not Work Well Enough For You
Stronger hydroxy acid will speed the procedure but also increase the chances of irritation or chemical burns. Ten percent (10%) hydroxy acid combinations, such as 8.5% lactic / 1.5% salicylic formulated at pH 3.2, seem to work quite well. Some individuals and clinics use stronger salicylic acids or 30% to 70% hydroxy acids to loosen the scar tissue then apply the copper peptide product.
Such stronger hydroxy acids can be obtained from estheticians and dermatologists at various spas and clinics.
---
Featured Topics
---
Questions or Advice?
Email Dr. Loren Pickart: drlorenpickart@gmail.com
Call us at 1-800-405-1912 Monday through Friday (8 am to 6 pm) PST
1994 - 2020
No Reproduction Without Explicit Permission by Loren pickart, PhD
073015cm-graphics/keywords/articles
080515cm-fb
082015cm-egfwarning