Search Skin Biology
---
Sun Damage and Actinic Keratosis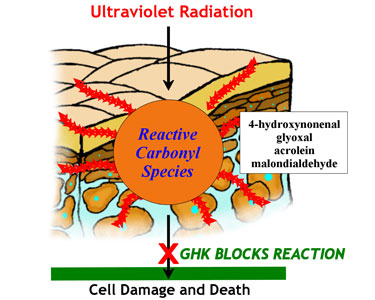 The look and appearance of sun damage darkening and sun damage marks (actinic keratosis) can be markedly reduced or removed after using the combination of copper-peptide creams with alpha and/or beta hydroxy products. Sun damage marks can also be reduced with microdermabrasion cloths and skin needle rollers. This simple, safe, and painless method that often works surprisingly well, and is much less expensive than laser treatments, chemical peels or silicone sheets and less irritating than retinoic acid.
The key is the hydroxy acids and mechanical abrasions slowly exfoliate and remove the damaged tissue. Copper peptides supply nutritional copper to the skin so that it can perform its functions.
To use this method to reduce skin lesions, use hydroxy acids on the damaged area in the morning and copper peptide products in the evening. Results should be evident in about one month as a reduction in the area and thickness of the lesion. After a week, you may also notice a slight flaking of skin around the periphery of the lesion. This is usually followed by a shrinking and thinning of the skin lesion which is significant after one month.
The Method By The Numbers
1. In the morning, apply the salicylic acid and/or lactic acid to the sun damage mark.
2. You can apply more hydroxy acid during the day if you have no irritation. But reduce the amount if your skin become irritated.
3. In the evening, use the copper peptide product to the sun damage mark.
4. The key is to keep working on the sun damage mark.
5. You can use the copper peptide products also in the morning but because of the blue color, most people prefer evening use.
Read more about the effects of uv light on skin at: www.suntanscience.com
Caution: Any skin lesion that is infected, looks very abnormal
or appears to be dark and has irregular borders should be promptly checked by a physician.
---
Advanced Techniques - If The Above Does Not Work Well Enough For You
Stronger beta hydroxy acids will speed the procedure but also increase the chances of irritation or chemical burns.
Some individuals and clinics use stronger salicylic acids or 30% to 70% hydroxy acids to loosen the scar tissue then apply the copper peptide product.
Such stronger hydroxy acids can be obtained from estheticians and dermatologists at various spas and clinics.
---
Featured Topics
---
Questions or Advice?
Email Dr. Loren Pickart: drlorenpickart@gmail.com
Call us at 1-800-405-1912 Monday through Friday (8 am to 6 pm) PST